The world's first medical imaging scanner that can capture a 3D picture of the whole human body simultaneously has produced its first scans.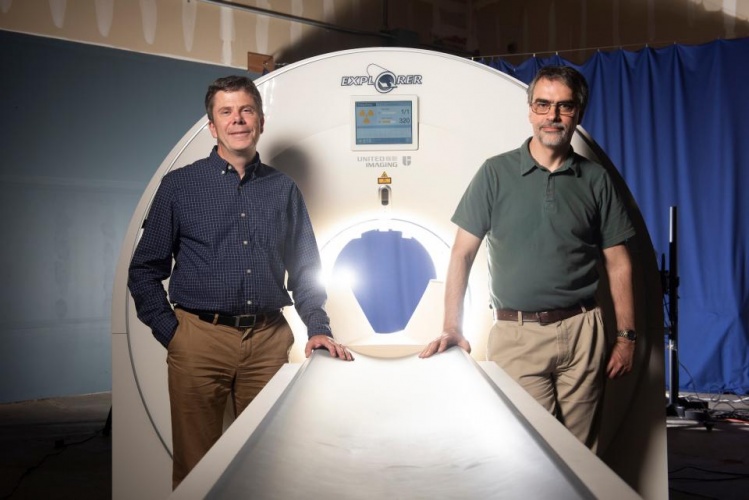 Simon Cherry (left) and Ramsey Badawi with a mock-up of the EXPLORER total-body scanner.
Devised by UC Davis scientists Simon Cherry and Ramsey Badawi, Explorer is a combined positron emission tomography (PET) and X-ray computed tomography (CT) scanner that could eventually have applications ranging from improving diagnostics to tracking disease progression to researching new drug therapies.
The first images from scans of humans using the new device will be shown at the upcoming Radiological Society of North America meeting. The scanner has been developed in partnership with Shanghai-based United Imaging Healthcare (UIH).
"While there is still a lot of careful analysis to do, I think we already know that Explorer is delivering roughly what we had promised," said Cherry, distinguished professor in the UC Davis Department of Biomedical Engineering.
"The level of detail was astonishing, especially once we got the reconstruction method a bit more optimised," said Badawi, head of nuclear medicine at UC Davis Health and vice chair for research in the Department of Radiology. "We could see features that you just don't see on regular PET scans. And the dynamic sequence showing the radiotracer moving around the body in three dimensions over time was, frankly, mind-blowing."
Cherry expects Explorer to have a profound impact on clinical research and patient care because it produces higher-quality diagnostic PET scans than previously possible. Explorer also scans up to 40 times faster than current PET scans and can produce a diagnostic scan of the whole body in 20 to 30 seconds.
Explorer can also scan with a radiation dose up to 40 times less than a current PET scan, making it feasible to conduct many repeated studies in an individual or reduce the dose in paediatric studies, where controlling cumulative radiation dose is particularly important.
"The trade-off between image quality, acquisition time and injected radiation dose will vary for different applications, but in all cases, we can scan better, faster or with less radiation dose, or some combination of these," Cherry said.
In use, the imaging scanner could quantitatively measure blood flow or how the body takes up glucose everywhere in the body. Researchers envision using the imaging scanner to study cancer that has spread beyond a single tumour site, inflammation, infection, immunological or metabolic disorders and many other diseases.
UC Davis is working with UIH to get the first system delivered and installed at the Explorer Imaging Center in leased space in Sacramento, California and the researchers hope to begin research projects and imaging patients using Explorer from June 2019.
Article from The Engineer dated 20th November 2018 10:52 am