Clarity, Teaching Tools, and Real-World Solutions
Successfully serving CAD/CAM education requires clarity, good teaching tools, and real-world solutions. From middle school, high school and technical schools to colleges and universities, everyone requires CAD/CAM software that can live up to the increasing demands of the classroom.
Mastercam delivers a powerful set of industry-standard toolpaths and teaching aids to schools worldwide ranging from local extension classes to centers of higher learning:
Specially packaged to deliver CAD, mill, turn, router and wire EDM.
Educational pricing makes the software highly affordable.
QuickPart introductory module gets students cutting fast.
Wide variety of teaching aids and learning tools.
Students learn the world's most widely-used CAM software.
Software that is ideal for CAD/CAM education is only one ingredient for success. A global community of Mastercam users, experts, educators and enthusiasts helps you get the most from your investment.
Our Educational Division and local Mastercam Educational Resellers bring years of practical experience, helping to ensure that you're getting what you need today, while preparing students for tomorrow.
Mastercam delivers CAD/CAM software tools for all types of programming, from the most basic to the extremely complex.
2-axis machining, multiaxis milling and turning, wire EDM, router applications, free-form artistic modeling and cutting, 3D design, drafting, surface and solid modeling – whatever your machining needs, there is a Mastercam product for your budget and application.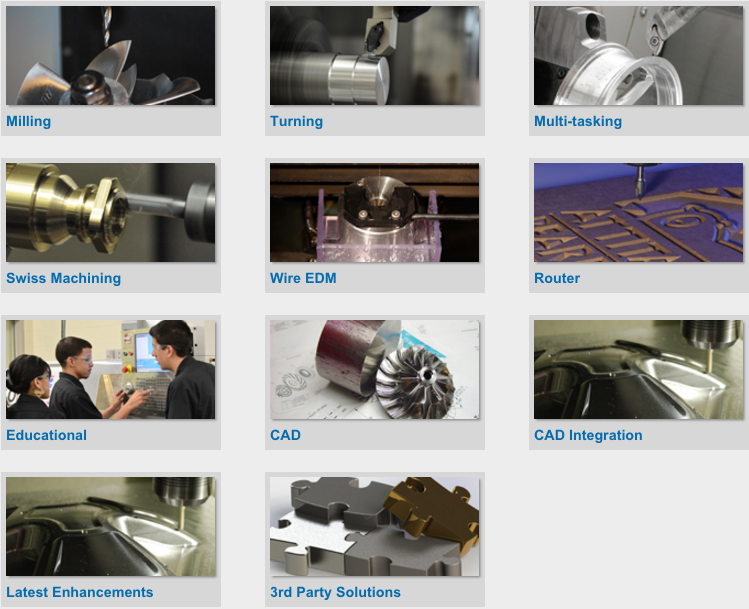 TECHNICAL
| | |
| --- | --- |
| CAD modelling in wireframe, surfaces and solids. | |
| Complete customizability | |
| Milling for everything from basic pockets and contours to complex multi-axis parts. | |
| Create and dimension live wireframe geometry | |
| Turning made easy with options for Mill/Turn applications | |
| Read / write IGES, DXF, SAT, Parasolid, EPS STL & more | |
| Read native Autocad, SolidWorks, Solid Edge & more | |
| Read native Catia and Pro/E files | |
| Live surface modelling | |
| CAD file change recognition | |
| Solid Modelling | |
| CAM – Milling | |
| CAM – Turning | |
| Fully associative toolpaths | |
| Streamlined "Quick Toolpath" programming | |
| Fully associative toolpaths | |
| Intelligent ID and OD roughing | |
| Feature Based Machining | |
| Easy finishing | |
| Contouring, pocketing, and drilling | |
| Optimized facing grooving and Threading | |
| Automatic solid drilling when combined with Solids | |
| Canned cycle support | |
| 3D contour cutting, trimming & re-machining | |
| Automatic gouge checking | |
| On-screen toolpath verification | |
| Boring, drilling, and point-to-point machining | |
| Safety zones for all toolpaths | |
| Machine directly on a solid | |
| Machine and control definition | |
| Chuck, part, steady rest, and tailstock collision check | |
| Fully associative toolpaths | |
| Single and limited multi-surface roughing / finishing | |
| Face and cross contour and drilling | |
| Full multi-surface and solid roughing / finishing | |
| 3D C-axis contour machining | |
| Full multi-surface and solid "cleanup" & high speed machining | |
| All pocketing contour and drilling routines | |
| 5-axis drilling and curve machining | |
| Full multi-surface and solid roughing / finishing | |
| Full 4-and 5-axis machining | |
| Full multi-surface and solid "clean-up" machining | |
| High speed toolpaths | |
| Multi-axis machining | |
| Engraving | |