… of complex workpieces up to 4,5 tons.Extension of the Umill range around the new Umill 1500.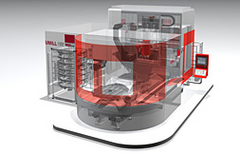 The development of the Umill is a result of many years of MECOF experience – since 1947 Mecof has been developing and manufacturing vertical portal milling machines and horizontal moving column machining centers in Italy. Just in time for the biggest trade show for machine tool manufacturing, EMCO MECOF will present the new model of the Umill Range – the new Umill 1500 – at the EMO in Hannover – a 5-axis milling center for the complete machining of complex workpieces in a single set-up, which demonstrates impressive performance figures and will be used in mold & dies, aerospace, precision general engineering and energy engineering. With the expansion of the Umill series, EMCO MECOF is responding to the demand for compact 5-axis machining centers with automation, which have a high performance, performance and accuracy.
With a travel of 1,500 x 1,500 x 1,100 mm and a newly developed MECOF milling head, the Umill has impressive performance: with a milling capacity of 45 kW (S1), a torque of 300 Nm (S1) and 12,000 rpm, convincing results for stability and stiffness with high dynamics and precision can be achieved with the compact design of the machine, a cast iron construction with ball screws and linear roller guides, optimized with FEM analysis.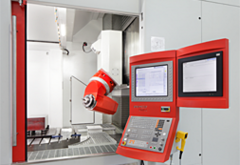 Highlights
With its compact dimensions and the milling and turning operations in a single setup, the Umill guarantees perfect time management and high precision in workpiece machining. The fully NC controlled rotary table supports in coping with complex machining tasks and can handle workpieces up to 4,5 tons.
The automatic tool change system has a maximum of 203 places. With the Heidenhain iTNC 640 HSCI and Siemens 840D sl, customers can choose between two state-of-the-art
control environments that also cover the "Energy saving" and "Safety Integrated" integrated safety management functions.
The compact size of the machine does not affect good accessibility to the work area – a laterally wide opening sliding door offers optimum insight and access to the work area.
A micro camera on the milling head housing provides additional insight into what is happening in the work area.
The modular design with a variety of options and configurations such as
a selection of cooling systems, an optional mechanical spindle high-speed spindle or various measuring devices, a process control system and automation (pallet changer) are the solution to individual customer requirements.