The EMCO EASY CYCLE is a part of the EMCO training strategy. The EMCO EASY CYCLE is suitable for certain conventional turning and milling machines and for EMCO Concept TURN and MILL machines. Previous knowledge in ISO programming is not necessary.
With an interactive contour programming it is possible to define work piece outlines with linear and circular contour elements.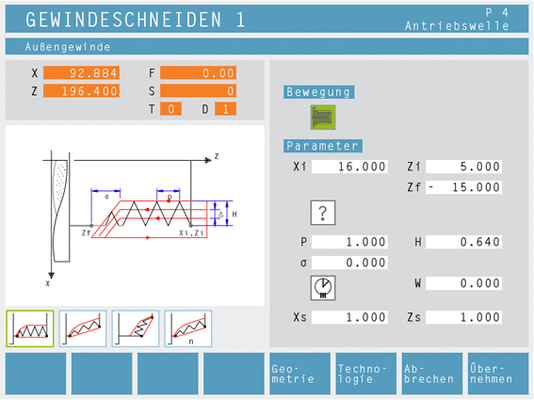 FUNCTIONS
Measuring of tools:
When scratching the reference workpiece the tool offsets can be taken over.
Data in/output of workpiece program files:
Programs, contours, cycles and tool data can be filed called-up again by the control. Data can be transferred by USB interface.
Zero offset:
By scratching of the reference workpiece the zero point can be set.
Dry run:
In the run-up to the machining process collisions and programming mistakes can be avoided and corrected by using the dry run.
Preliminary block run:
NC codes and cycles can be skipped.
Editor:
In order to ease the operation and the programming the control is equipped with helping cycles and pictures.
Contour processor with graphic simulation:
The contours of the workpieces are illustrated by graphics in the programming process.
Diagnostics:
Alarms, signals, versions and customer information are displayed by the diagnostics.
Control via horizontal softkeys
2D-graphic simulation with autozoom
Version for programming place with 3D-graphic and autozoom
Programming with 3D tool generator and tool database with 3D view
Integrated in ConceptTurn/Mill 55/60/105
Detailed error messages about drive problems and programming faults
Operation via PC keyboard and mouse or control keyboard (EMCOMAT FB-450 L and EMCOMAT FB-600 L)
Language versions on the machine: English, German, French, Spanish, Italian, Dutch, Czech, Polish, Russian, Romanian
Main programs, drilling templates and contours will be stored permanently
Contour editor with graphical support
Large NC program memory (limited only by the size of the hard disc)