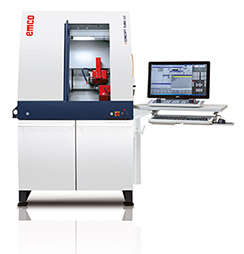 With an 8 station turn turret and the capability to hold chuck parts of up to 75mm. The main spindle features speeds of up to 4000 rpm and a main drive power of 1.9 kW. For shaft machining, the machine is also available with automation.
Optimal accessibility is achieved with a large sliding door, the machine offers the perfect solution for small batch quantities and second operation work. Made in Austria, the Emco Concept Turn 105 is the latest development of a proven machine. It has compact machine dimensions offering a small footprint of 1135 x 1100 x 1030 mm.
Therefore, this machine tool is suitable for compact work spaces within factories, workshops, laboratories, and outbuildings with the convenience of 230v 16amp single phase power supply.

Main features:
• Made in Austria
• 230v 16amp single phase power supply
• Compact. Powerful and accurate with a small footprint.
• Ideal for batch production, 2nd op' Jobs, prototyping and training
• Full range of accessories available on request which include, Automation, Pneumatics, Machine Stand and Power Chuck
• Latest development machine,  proven performance, tried and tested
• Coolant and machine stand
• Easily portable, can be moved with a pump up pallet truck
Main spindl
• Max. speed 4000 rpm
• Spindle nose EMCO
• Max. drive power 1,9 kW
• Max. torque 14 Nm
Tailstock
• Quill travel 120 mm
Highlights:
• Travel in X/Y/Z 55 / – / 172 mm
• Bar diameter 18 mm
• Max. turning diameter 75 mm
• Max. part length with tailstock 121 mm
• Swing over bed 180 mm
• Tool cross-section for outer machining
12 x 12 mm
• Tool cross-section for inner machining Ø 16
• Rapid motion speeds in X/Y/Z 5 m/min
• Work feed X/Y/Z 0-5 m/min
• Feed force in X/Y/Z 2000 N
Tool turret
• Number of tools 8
General data
• Dimensions (LxWxH) 1135 x 1100 x 1030 mm
• Machine weight 350 kg