London Taxi Company has just opened a sparkling new production plant on the outskirts of Coventry to produce the iconic London black taxi cab
Back in 2012, the UK manufacturer of London's iconic black cabs was facing an uncertain future.
Having failed to make a profit since 2007, and with administrators poised to take control of the finances, it appeared that the London Taxi Company's (LTC's) 70-year history of producing one of the UK's most distinctive-looking vehicles was about to come to an end.
That was until Chinese automotive giant Geely Group – already a major shareholder – stepped in with an £11.4m rescue package, took ownership of the firm and unveiled a bold plan to expand production, target new overseas markets, and reinvent the company as a leading developer of specialist lightweight, low-emission vehicles.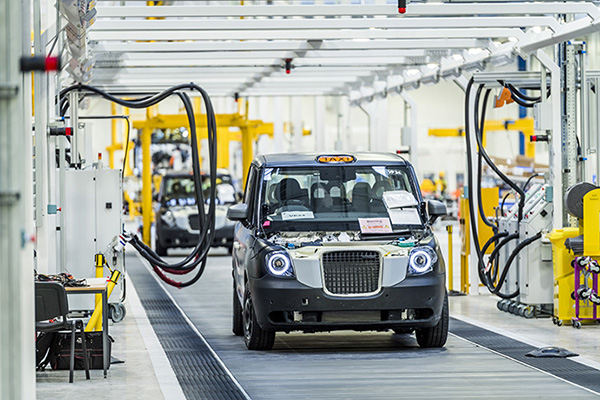 Four years and £300m of investment later, these plans are now beginning to come to fruition. And this month LTC officially opened a sparkling new production plant in Ansty, on the outskirts of Coventry.
The first facility of its kind to be built in Britain for more than a decade and the first dedicated electric vehicle (EV) factory in the UK, the plant will initially be used to manufacture the TX5 – the firm's next-generation, low-emissions taxi. In the longer term, LTC plans to use the lightweighting and powertrain expertise gained during the development of the cab to launch a wider range of low-emissions vehicles. But, for the moment, it's the TX5 – which will begin rolling off the production line later this year – that's the focus of attention.
Scratch beneath the surface
Cosmetically, the new vehicle looks much the same as its predecessors, retaining the functional and friendly box-like shape that's been a familiar sight on London streets for decades. But scratch beneath the service, and this is a radically different vehicle from the firm's current diesel-powered TX4. "This is a total redesign," LTC's CEO Chris Gubbey told The Engineer. "There's not a single carryover part from the current cab. It's completely new."
Designed to meet legislation due to come into force in 2018 specifying that all-new London taxis are zero-emissions capable, the TX5 features an electric powertrain and a three-cylinder petrol engine that's used as a range extender. It is claimed that the car has a pure EV range of over 70 miles. Both the electric powertrain and the IC engine were supplied by Volvo, which is also owned by Geely.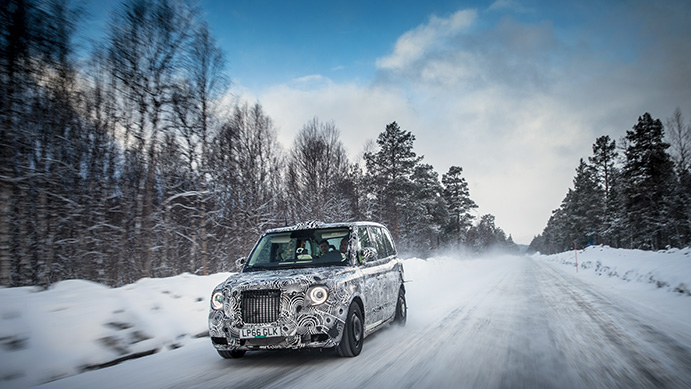 As well as the powertrain, there's been a fundamental overhaul of the vehicle's structural components, with the old chassis replaced by a bonded aluminium frame that's clad with composite panels. Although LTC hasn't yet revealed specific figures, this is claimed to dramatically reduce the weight of the taxi, thereby improving efficiency, and reducing the cost of ownership.
In common with its predecessors, the new vehicle is designed to last. But with automotive technology evolving at a rapid rate, it has been developed with upgrades in mind. And just as Volvo has fed into the powertrain design, Gubbey expects breakthroughs made by other areas of the group to filter through to the taxi business. "It's an area where we benefit from being partof a larger group," he said, "in terms of making benefit out of rapid development, that's a very positive thing for us." Some of these developments may be made by the Ansty site itself, which Geely aims to turn into a centre of excellence for lightweighting R&D – building on an area where the UK already has a world-leading reputation.
The impact of Uber
Given the disruptive impact of Uber, it seems a little strange to be talking about a resurgence of interest in something as traditional as a black cab. But unsurprisingly, while stating there are lessons to be learned from the tech start-up's success, Gubbey rejects the notion that it's called time on the black cab, pointing to its easy-to-access design and the specialist knowledge of its drivers as factors that will ensure it endures for years to come.
At a time of such rapid technological change, however, it's difficult to predict what the black cab of 2040 might look like. "There are so many changes going on in the automotive industry. With the focus now on clean air, electrification is going to come a lot faster. But from a powertrain perspective predicting where we're going to be is very difficult – it might not even have wheels on it!"
Wider plans than just London black taxis

Plans for the LTC's revitalised operation stretch way beyond simply manufacturing black cabs for London, and Gubbey – whose previous roles include a spell in China as vice-president of Shanghai GM – hopes to expand the taxi business into new international markets and diversify the product range beyond its core. "We're not going to be able to return that £300m investment just selling taxis into London, we need to get better throughout the UK and plug into continental Europe," he said.
With this in mind, the firm is currently eyeing up plans to launch the TX5 in a number of European cities during the course of 2018. Amsterdam, Paris, Berlin, Oslo and Barcelona have all reportedly expressed interest in the vehicle.
LTC also has ambitions to use the powertrain architecture developed for the new cab for a number of urban commercial vehicle applications, and recently announced that the second vehicle to come off the Ansty production line will be a dedicated, range-extended electric light commercial van (LCV).
"When you look at purchasing trends you've now got this plethora of small vans running around the city clogging it up. Ours is a perfect philosophy for those vehicles," said Gubbey. "Most of the depots are going to be outside the city; one of the things you can do with a range extender is run it in maintain mode and then when you get to the low-emission zones you've got a full battery charge." Gubbey added that he eventually expects the LCV operation to grow to at least the same size as the taxi business.
www.theengineer.co.uk