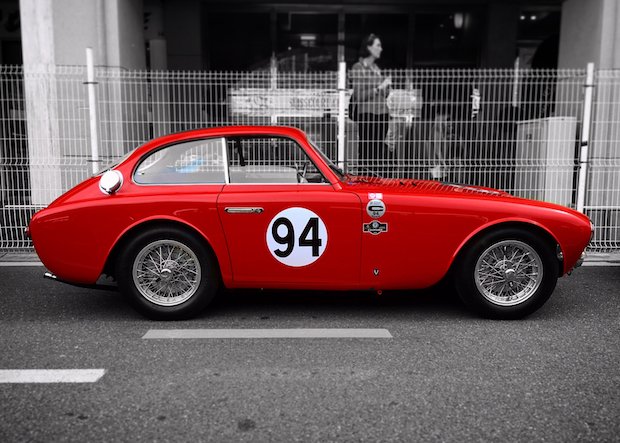 The 1952 Ferrari 225 which Redesign Sports Ltd managed to get back on the track for the Monaco Historic Grand Prix.
The United Kingdom has long fancied itself as a hub of engineering. It has a chronicled history of playing its part in the early days of motor vehicle development, and housing production facilities of some of the largest automotive companies in the world, amounting to a healthy and vibrant market even to this day.
In parallel, a prominent fascination has remained among many Brits with automotive vehicles. Motor racing has a large following with Silverstone a mainstay on the Formula 1 circuit since 1950, classic car shows are regularly visited by thousands of a weekend, and BBC television series, Top Gear has become a national institution.
The UK is big on tradition too. The populous values its country's history, and classic cars marry together the popularity of engineering and reverence of aforementioned tradition.
Dafyd Richards is one of many who have turned his passion and leisure into his work and endeavour. He's the founder of Redesign Sport Ltd (RSL), a bespoke car restoration company founded in 2006. In the last decade, Richards has found it harder and harder to come by certain parts for classic cars. A solution is the difference between a classic car being retired to a museum and remaining road-worthy, and perhaps even race-worthy.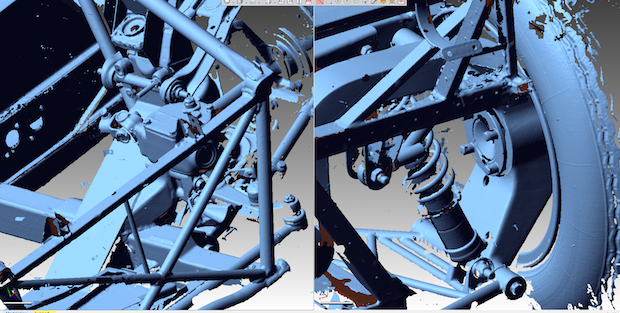 A 3D scan of the Ferrari 225's chassis.
The acceleration of 3D technology is affording Richards and his team ample opportunity to ensure bespoke vehicles are given every chance of staying on the road and the track.
"Classic car owners like to go racing or undertake long distance tours, but irrespective of how much the customer is willing to spend, these £1 million, or even £20 million, cars sometimes can't go anywhere because sourcing old parts or getting them remade has hitherto been horrendously difficult," explained Richards in an interview with NTCADCAM.
"In the last three to five years, there has been a revolution and evolution in scanning technology; I remember when I first saw a FaroArm in action, then a Faro Focus 3D scanner. It blew my mind.
"This offered the capability to scan old, broken parts and put the data into the 3D space for CAD modelling. Scanning massively improves the accuracy and time in reverse engineering these beautiful cars and their associated parts. It also reduces the mental fatigue of the engineer, who would have previously relied on traditional methods, or worse, been forced to model a component from memory."
The Creaform HandySCAN 700 used by RSL.
The incorporation of 3D technology has been a worthy move for RSL. It has enabled an enhanced service for the company's customers and better working conditions for its employees. The 3D scanning equipment leveraged by Richards' company is the Creaform HandySCAN 700. Having carried out extensive research beforehand, it would take just a brief demonstration for Richards to be convinced of the technology that has gone on to help advance the company's restoration capabilities.
"We undertook a great deal of market research before ultimately opting for a Creaform HandySCAN 700. I had a demo and the salesman was able to scan half the car in 15 minutes, so I knew it was a game changer," recalls Richards. "It comes with VX Elements lightweight scanning software, which scans to mesh directly, as opposed to other scanners which scan as a point cloud and then convert to a mesh. This enables us to see information in real time and, if need be, change the resolution or laser intensity on the fly."
After scanning is complete, it's then about getting the data into the SOLIDWORKS environment. This may come via use of other CAD programs, such as the HandySCAN 700's VX Elements software or Geomagic Design X software, but SOLIDWORKS is where most of any required design work is carried out. Richards, who believes there isn't a more complete package on the market, doubts his business could even run without the aid of a program like SOLIDWORKS.
"We use other pieces of software, but always come back to SOLIDWORKS because we simply couldn't operate without it. When I worked for a Porsche Supercup racing team, I'd seen the guys next door use CATIA on their Le Mans LMP project and thought it would be painfully difficult for a CAD newbie like me to come in and use it. I then discovered SOLIDWORKS 3D CAD, which was very easy and quick to learn. I have been using Geomagic Design X in real world projects for the past couple of years and between the two products, RSL has achieved a huge amount of success – especially the 2D drawing facility."
One of RSL's more recent applications of the HandySCAN 700 and SOLIDWORKS came when a customer approached Richard with his 1952 Ferrari 225 ahead of the Goodwood Revival, a three-day festival held in Chichester, UK. An aesthetically-pleasing vehicle, it wasn't quite as it seemed when RSL started the engine a day before it was due to race.
Richards expands: "The car had been given a fresh engine build and a check over in the US, but when we fired it up a day before the race, a conrod came out of the side of the engine. This part moves the pistons up and down so the prognosis was terminal. Unfortunately, upon striping the fresh engine we found that every nut and bolt inside the engine had been left loose during the original rebuild."
As a result, the Ferrari was unable to race during the festival, which takes place annually in September. Eight weeks later was the Monaco Historic Grand Prix, and with the customer and RSL both determined to race the classic Ferrari, it was a chance for Richards' company to display its expertise.
The Ferrari 225 in action at the Monaco Historic Grand Prix.
The piston was scanned on a Thursday morning using the HandySCAN. By the following Monday 12 pistons went into production, with the end-parts being in Richards' hands three weeks later. In between the scan data was modelled in Geomagic Design X, before being transferred into SOLIDWORKS, where slight alterations to the design could be made. SOLIDWORKS was also used to remodel two distributors, which were causing problems with the ignition system. Every single component was remodelled in the same way and sent out to different manufacturers.
"The parts had only ever been together on the screen in SOLIDWORKS, but when they all arrived they all fitted together perfectly the first time, just as I knew they would," said Richards. "The car drove magnificently in Monaco and after a quick check-up back in the UK, it was delivered to Heathrow for its flight back to the US."