SINUMERIK OPERATE 840D SL
SINUMERIK OPERATE 840D SL
The Sinumerik Operate 840D SL is part of the changeable control WinNC. WinNC allows the user to learn all CNC industry controls that are common on the market, on a single machine. One of these controls is the Sinumerik Operate 840D SL.
It corresponds in handling and function the particular original control and it can be used on a commercial PC. The user has the possibility to work on the PC as well as on the machine control and gets familiar with all aspects of control programming in detail.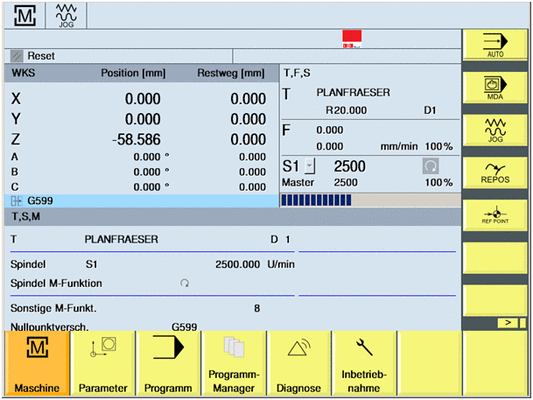 FUNCTIONS
Data in/output of workpiece program files:
Workpiece program files can include several main and subprograms and further corresponding tool data. Moreover, workpiece data, R-parameter and zero offsets can be exported and imported.
Contour processor with graphic simulation:
The contours the workpieces should have after the machining process are illustrated by graphics in the programming process.
Editor:
In order to ease the operation and the programming the control is equipped with an editor with helping cycles and pictures.
Preliminary block run:
Already finalized NC codes can be skipped.
Intermediate memory storage:
Data that are stored in the intermediate memory storage can be renewed in the programming process.
Setting Data:
JOG feed and speed limitations can be entered.
Dry run:
In the run-up to the machining process collisions and programming mistakes can be avoided and corrected by using the dry run.
Automatic measuring of position offsets:
When scratching the measured workpiece the position offsets will be taken over.
Automatic measuring of tools:
When scratching the reference workpiece the workpieces offsets will be taken over.
Diagnostics:
Alarms, signals, versions and customer information are displayed by the diagnostics.
Operation, appearance and scope of control surface based on software version 828 V 02.60.44.00 of Siemens original control
ShopMill and ShopTurn work-step programming
2D Graphic simulation with autozoom
Detailed error message about drive problems and programming faults
Operation via PC keyboard, digitizer, control keyboard or mouse
Languages: german, english, french, spanish, italian, dutch, czech, hungarian, russian, chinese
Main programs, sub programs tool data register and workpiece management will be stored permanently
Position offset will be stored by pressing the store button
Program titles can be given without specifications
Window oriented, modern user interface
Comprehensive editor with intermediate memory storage function
Large memory of NC programs (limited only by the size of the hard disc)