Small- to medium-sized manufacturers in the UK have remained resilient in the face of 'Brexit' uncertainty, with 57% of firms recording an increase in sales during the last six months, according to the National Manufacturing Barometer.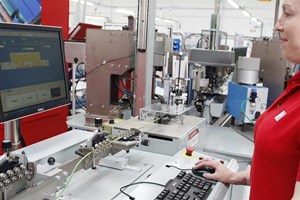 Conducted by the SWMAS Group in partnership with Economic Growth Solutions (EGS), the survey of senior decision-makers from 270 companies across the country also found strong optimism on growth, with two thirds expecting sales to increase during the first half of 2017. (SWMAS is based in Bridgwater, Somerset; EGS in Humber – it is part of the Humber Local Enterprise Partnership.)
Further survey findings were: half plan to invest in new capital equipment and technology going forward; 46% plan to increase their workforce to cope with demand; 42% of respondents say they don't know whether the UK industrial strategy is built to deliver their business needs (showing a lack of visibility and understanding amongst SME manufacturers).
Says Simon Howes, managing director of SWMAS Group: "There has been a lot of talk about uncertainty around the impact of Brexit and the possible impact it could have on manufacturing, which makes the positive results from the latest Barometer very welcome.
"A 9% surge in the number of SMEs reporting an increase in sales from the previous Barometer shows that orders are still being placed and, anecdotally, there is evidence of a spike in exports, due to the fall in sterling. This is something we plan to look at in more depth in future reports.
"Encouragingly, there appears to still be a strong appetite to invest in technology and people to drive growth and productivity, and that is something that could prove crucial, if our SMEs are going to fulfil their aspirations."
A focus of the survey was the UK's industrial strategy. This revealed that most small- to medium-sized manufacturers were not convinced the government had yet delivered a vision that matched their requirements.
Just 17% of respondents agreed that the direction of the industrial strategy would work, which highlights the need for much better engagement with SMEs and stronger communication about the plan and what it involves.
When asked what should be the main focus for the UK industrial strategy, R&D and productivity were high on the priority list, closely followed by access to growth opportunities within the UK, export and operational skills.
Lorraine Holmes, CEO of Economic Growth Solutions and the recently launched Manufacturing Growth Programme, added her support. "Our SMEs are giving a strong message to government. They need to feel that the new strategy reflects their aspirations and will support them in making the most of new opportunities and overcoming some of the challenges they are and will continue to face."