Top swimming gear brand Speedo has used its Stratasys Objet350 Connex 3D Printer for over half a decade. Famous for both kitting out top swimmers and its supremely secret product development process, Speedo gave Stratasys UK reseller SYS Systems a small glimpse inside.
The product development arm of Speedo is focused at their research and development center, Aqualab, in Nottingham, England. They use their Stratasys PolyJet-based 3D printer to prototype and validate designs prior to production for vital equipment like goggles or other "hard goods," such as training aids and swim caps. Early and accurate design validation not only reduces the design cycle but also screens out design flaws prior to production.
Prior to having a 3D printer in-house, the product development cycle could take weeks or months and relied on a maximum of two hand-tooled samples before going into large-scale production. Changes made after the production tooling was created were prohibitively expensive. Now, designs can be 3D printed, in multiple materials when necessary, in a day or less and be tested directly in the pool.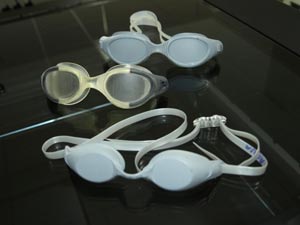 Using a Stratasys 3D Printer for design verification during the product development cycle means that many more design iterations are feasible, weeding out mistakes and creating better designed products.
Creative Freedom Goes Freestyle
Chris Johnson, a design manager for hard goods at Speedo, explained that 3D printing goggle models in multiple materials – transparent and rigid (VeroClear) to simulate polycarbonate lenses and rubber-like black (TangoBlackPlus) to simulate silicone – offered product designers nearly immediate opportunity to test for fit and function, while the cost-effectiveness allowed multiple design iterations. "Within that usual five-week period of one handmade sample, with 3D printing we can do a number of different iterations and really refine that product so that the comfort and fit is optimum."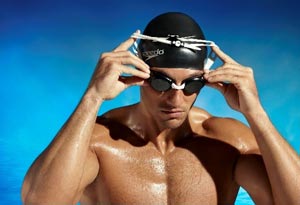 To see more visit: stratasys.com