NASA's Orion vehicle is set to take off with more than 100 3D printed parts out of the Additive Manufacturing Lab at Lockheed Martin in conjunction with Phoenix Analysis and Design Technologies (PADT), utilising the latest, super tough Stratasys FDM materials.
Using advanced materials such as Ultem 9085 resin and the new Antero material, which incorporates critical Electro-static Dissipative (ESD) functionality, NASA aims to meet key requirements for 3D printed parts to perform in the extremes of deep space.
The newly released Antero is ideally suited to meet NASA's requirements for heat and chemical resistance, along with the ability to withstand high mechanical loads.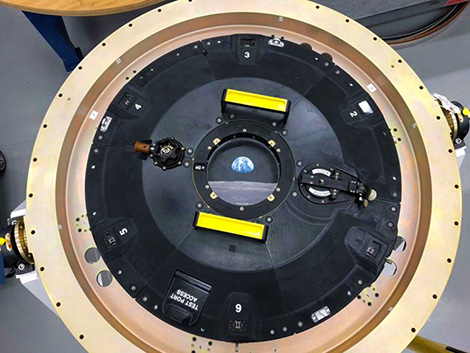 The Orion spacecraft leverages a variant of new Stratasys Antero 800NA to build an intricately-connected 3D printed docking hatch door
The collaboration showcases an ability to create consistency and repeatability on mass scale across the entire additive manufacturing part production process.
Lockheed Martin, one of the first customers to use Stratasys' Antero, is using the new thermoplastic for a critical part situated just outside of Orion's docking hatch.
The complex part consists of six individual 3D printed components locked together to form a ring on the craft's exterior.
"Working with PADT, Stratasys, and NASA has enabled us to achieve highly consistent builds that move beyond the realm of prototyping and into production," said Brian Kaplun, manager of additive manufacturing at Lockheed Martin Space.
"We're not just creating parts, we're reshaping our production strategy to make spacecraft more affordable and faster to produce."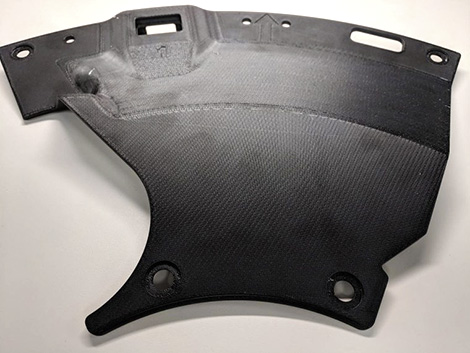 Lockheed Martin is one of the first customers leveraging Stratasys' Antero material – a PEKK-based thermoplastic with advanced mechanical, chemical and thermal properties
Stratasys states that part integrity and repeatability are essential for this project, and passing NASA's demanding testing will be one of the toughest validations.
Stratasys VP of manufacturing Scott Sevcik remains confident: "Based on decades of experience delivering strong and lightweight additive manufacturing solutions for leaders across the aerospace industry, Stratasys technology is ideally suited to match the high-reliability manufacturing processes required for production parts in space exploration."
"It's exciting to be a part of the Orion mission and Lockheed Martin's efforts to transition additive manufacturing from prototyping to production," said PADT principal and co-owner Rey Chu. "Additive manufacturing technology and materials have come a long way to become a full-fledged end-use manufacturing option."
Article from Develop3D by Stephen Holmes