The new Engineering Build Space at the University of Warwick's School of Engineering has been described as 'a vibrant and creative space where users can harness their creativity, explore their ideas, and bring their designs to life.'
The Engineering Build Space is set across three unique areas and contains a variety of facilities including discussion space, the capability for basic prototyping activities as well as hand tool practices. There is state-of-the-art computer controlled manufacturing and robotic equipment which is programmed using the latest cloud-based computer aided design and manufacturing software which all students have access to.
This facility is recognised as a community hub for both students and staff members to work together. Investigating and sharing ideas to discover solutions for their design issues and problems, rather than a team of technicians in white lab coats. Unconventionally this unique space is run by a team of 'Makers in Residence' who are all experts within their fields of engineering design and manufacturing research. Users can truly benefit from all aspects of this facility by discovering and experimenting with the fundamentals of engineering design and manufacturing. Also working alongside a team of knowledgeable and imaginative group of people in a relaxed and positive setting.

Emco Education were honoured to be one of the key suppliers of capital equipment into the new Engineering Build Space Facility.
The equipment we supplied included:
Imes Eco ICut Waterjet Cutting System
Isel Overhead M40 CNC routing machine
Emco Concept 260 CNC milling machine with 4thand 5thaxis's
Emco Concept Mill 55 CNC milling machine
Emco Concept Turn 60 CNC turning machine
Here is a short video of the deliveries of these machines taking place in collaboration with our transport and machine lifting contractors Fleggs Projects; https://youtu.be/Vul4dhHf1Gk
The staff and students at this Warwick facility have truly embraced this new facility and it's state of the art equipment. They have emphasised that the new Imes Eco Waterjet cutting system now gives them capabilities to cut most materials, highly accurately, very quickly, achieving high quality surface finishes and giving them much greater flexibility than plasma and laser cutting systems. The Isel Overhead M40 CNC routing machine has become a fantastic workhorse for machining many non ferrous materials for both research and student projects. Its ease of use with quick setting and programs lends itself to a very useful and reliable milling and routing machine tool.
The Emco CNC machines will all offer invaluable training capabilities to studies, allowing them to gain understanding and fundamentals of CNC programming, work holding and the full process taking a concept design through CAD and creating a finished part through CAM softwares.
The first prospect customers for Emco Education visited the University of Warwick's Engineering Build Space in early January 2019. These were representatives from the University of Portsmouth and Brunel University. The primary reason for both parties' visit was to view and have demonstrations of the new Imes Eco ICut waterjet cutting system.
The following video shows the machine in action;  https://youtu.be/tsExRzY4oAk
The representatives from the University of Portsmouth had specific interests in the waterjet cutting applications of composite and carbon fibre material samples of which they had brought several different test piece part samples to have test cut. Everyone was concerned initially about the possibilities of delamination when cutting due to the pressurised water forcing itself under the top layer of composite material and the resin. The cutting results achieved both on speed, quality of cut and surface finished, surprised all involved and there was not any witness of delamination whatsoever as shown in the following picture of the top surface cut: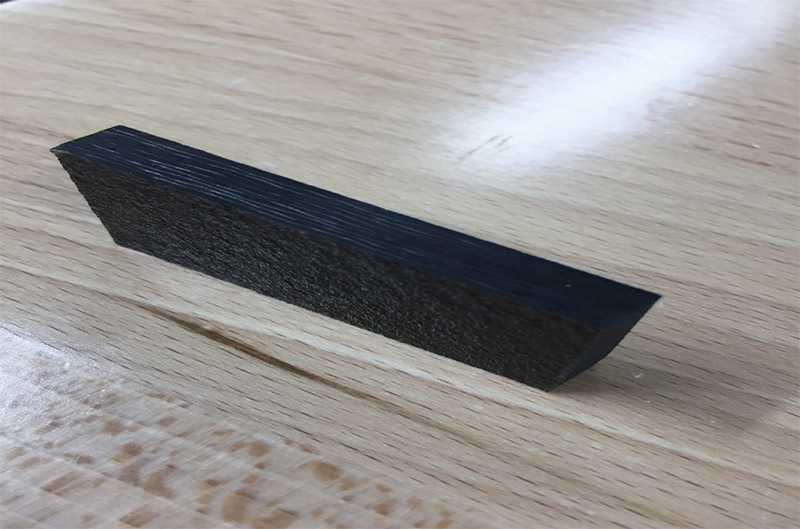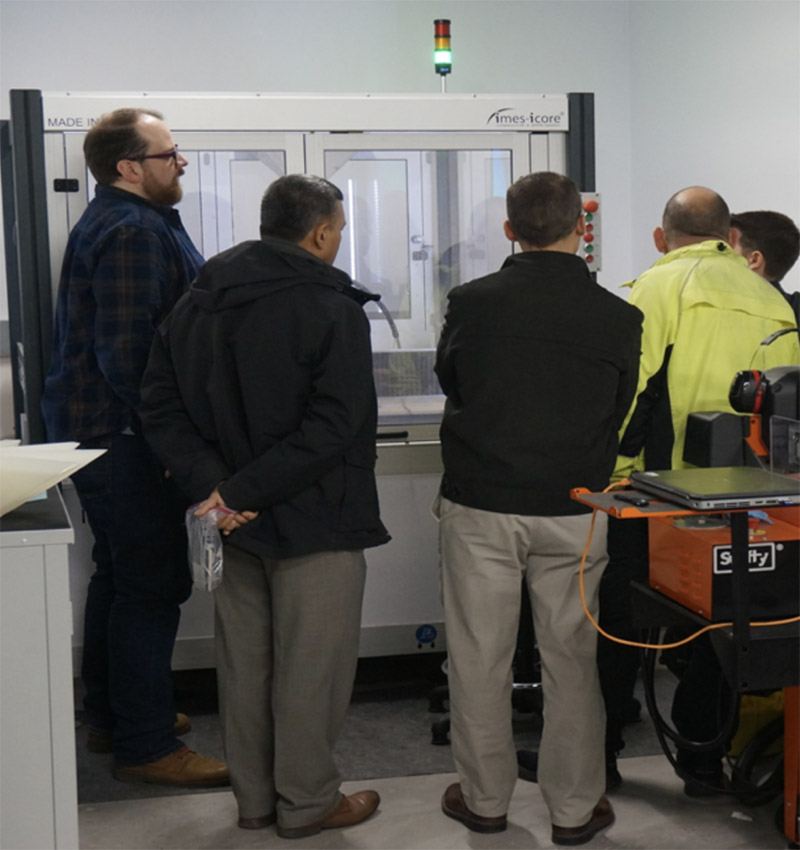 Imes Icore ECO Waterjet Cutting System
Complete enclosure with doors/accesses front and rear for clean safe operation
Minimal space requirement (high pressure pump, sand conveyance, controller all integrated into the machine frame) • Integrated 7.5kw 1500 bar pump
Travel stroke: 1000 x 600 mm (X/Y) Overall Dimensions: 2150 x 1650 x 1964 mm high speed abrasive cutting head with ruby nozzle
Protected, durable, circulating ball screw drives • CNC control
Post processor, CAD/CAM software based on Windows® (comprehensive import interface, e.g. for BMP, DXF and many other file formats)
MADE IN GERMANY
 Emco Concept Mill 260 CNC Vertical Milling Machine Centre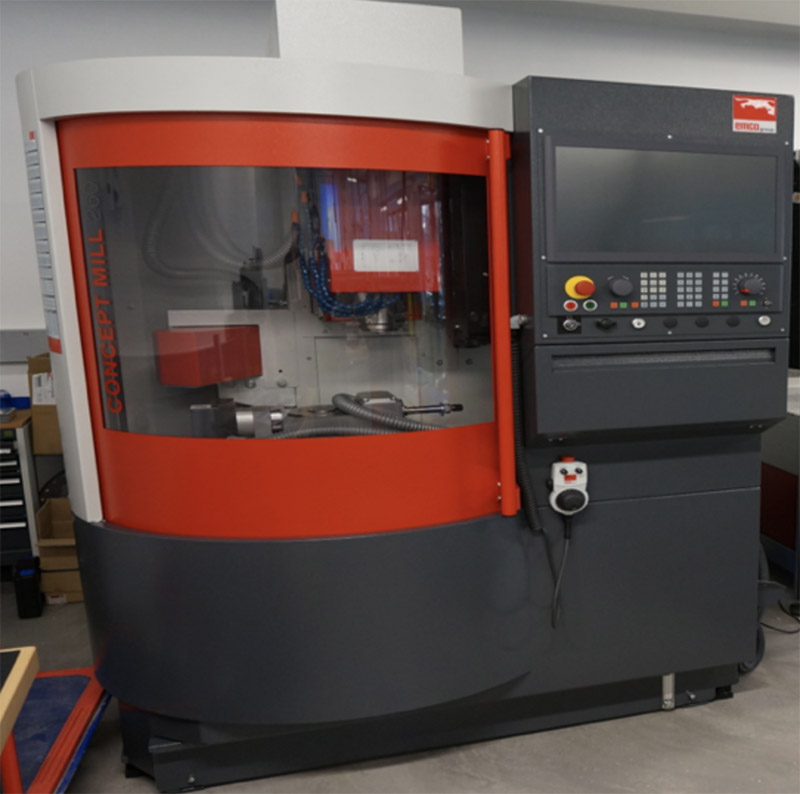 PC controlled 3 axes Vertical Machining Centre with 20 station automatic tool changer High drive speed, SK30 DIN69871
Stable and compact engineering
Travel: X: 350mm Y: 250mm Z: 300mm Fully enclosed, optimal view working area, including chip tray
Stable and compact engineering, Optimal view with full enclosed Servo motor technology in all axes
Max speed: 10,000 rpm, 6.8kw main drive, Central lubrication, machine lamp, integrated PC  With 21.5" Touchscreen, Optional 4thand 5thAxis's
USB and Ethernet-Interface
Made in the Heart of Europe
Isel Overhead MP40 CNC Routing Machine Tool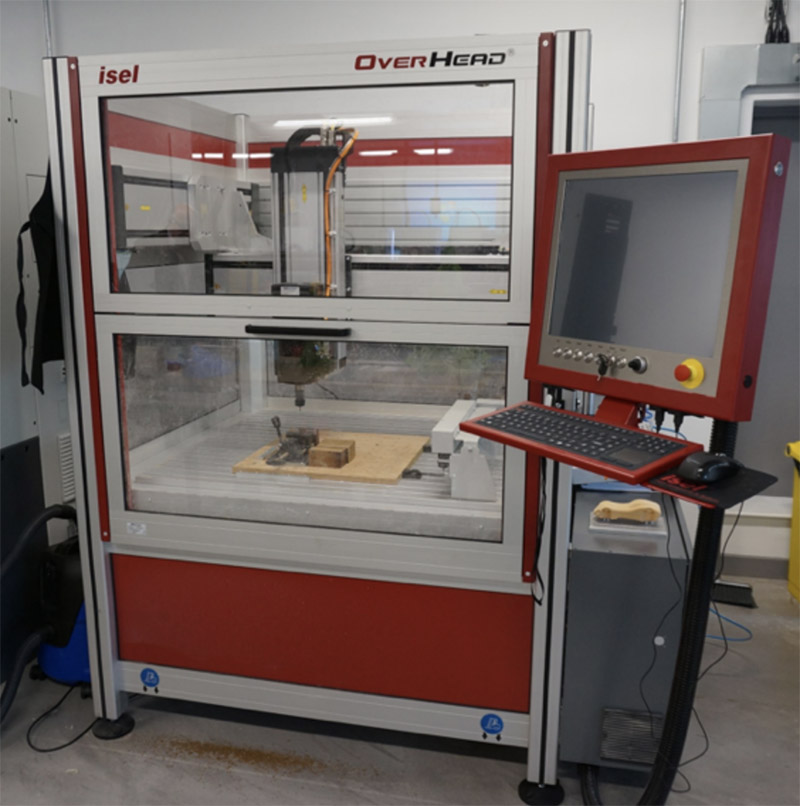 Maximum functionality with minimum space
The power of the milling motor of up to 2.2 kW and 20,000 rpm and a traverse speed up to 250 mm/sec make it suitable for processing wood and plastic as well as light and non-ferrous metals.
The free processing area and its excellent price/performance ratio offer decisive benefits compared to similar products.
Processing area X/Y/Z mm 1210 / 910 / 310
Bench clamping area 1600mm x 1300mm
Overal dimensions 1900mm x 1500m x 1960mm
Many options including cooling spray device, blade tray, tool length sensor spindle motors (up to iSA2200 applicable), Round changing systems SK 11 and SK 20, Linear changing systems SK 11 and SK 20, 4th axis with tailstock unit, 4th + 5th axis as rotary tilting unit, LED-lighting
MADE IN GERMANY
The overall feedback received from the initial visiting prospect customers has been outstanding. They were all very impressed by the new Engineering Build Space facility and how it is managed and run to benefit all those who use and enjoy it to its very fullest potential. The visitors were able to gain hands on, first hand experience with working with the makers in residence staff to receive demonstrations of each product. To discuss how they viewed each of the pieces of machine tool equipment that Emco have supplied and supported them with and receive feedback on the overall delivery they have received throughout the whole project.
We at Emco Education welcome the opportunity to invite any future parties who are considering any of the equipment that has been supplied to the University of Warwick for a hand on demonstration experience at this cutting edge workspace.