Full article https://www.pesmedia.com/emco-waterjet-cutting-14122020/
Although not designed specifically for full-blown production work, the new ultra-compact imes-icore iCUTwater Smart waterjet cutting machine, available exclusively in the UK from Hayling Island-based Emco, is claimed to be ideal for small workshops, prototyping and educational institutions. Dave Tudor takes a closer look.
Despite being involved in manufacturing practically all of my working life, and being editor of PES for the past 13 years, there are still things that provide the 'wow' factor. The simultaneous 5-axis machining of a complex part still gets me; then there's robots operating in perfect sync in a production process; or perhaps highly intricate 3D printed parts built up layer by layer from literally nothing.
The other process for me that belongs in the wow category is waterjet cutting. The sight of simple tap water under high-pressure with an abrasive added, scything through difficult materials such as stainless steel, titanium or composite materials like a knife through butter is just mesmerising.
Core business
Emco is a company that quietly goes about its business. It punches well above its weight in terms of products – supplying everything from high-quality turning centres, milling machines and 5-axis machining centres through to full-blown turnkey solutions, 3D printing equipment, laser cutters, CNC routers and waterjet machines.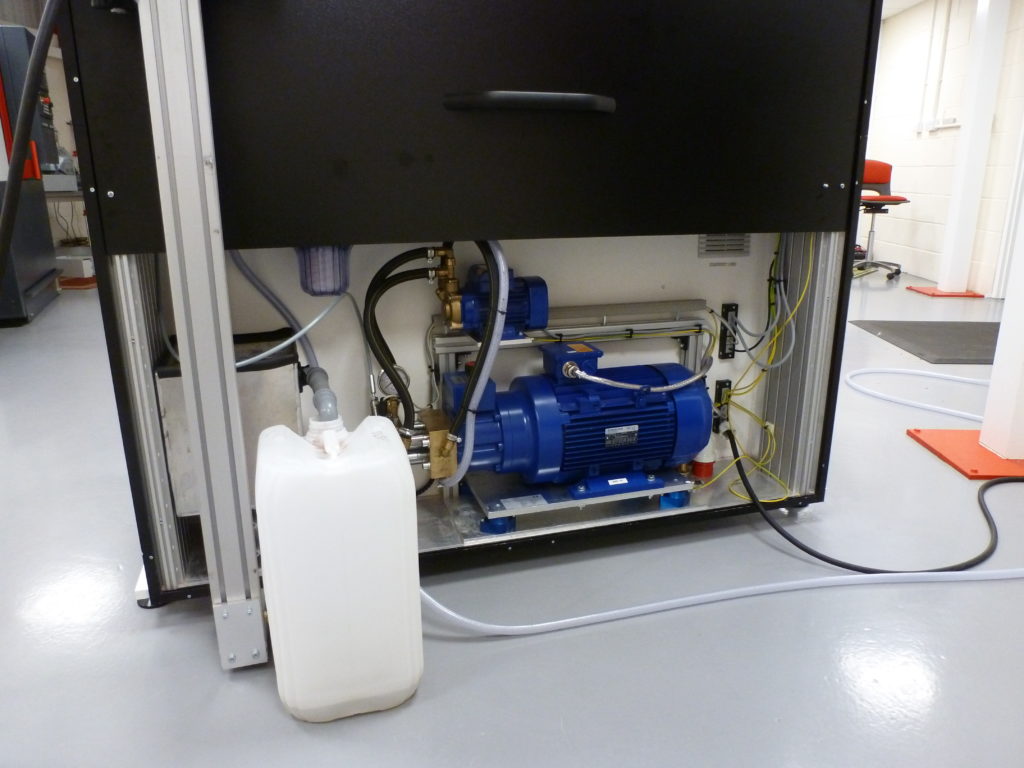 The company actually comprises two distinct businesses: Emco Education and Emco Industrial and there's crossover here, albeit one-way. Emco Industrial sells entirely to industry; but Emco Education sells 80% of its products to educational establishments and the remaining 20% to manufacturing companies.
In education, after more than 25 years in the sector, Emco is a market leader. Indeed, the company is often the first choice for colleges and universities needing machinery for predominantly educational purposes.
And the reasons? Quite simple really. Austrian-built quality that's extremely reliable, easy to use and competitively priced. It's no surprise then that Emco has many installations in colleges and universities up and down the country under its belt.
Whilst it would be true to say that the education sector makes up the lion's share of Emco's overall business, the industrial division – which sells directly to manufacturing companies – is highly successful in its own right.
Emco is a global company with its headquarters in Austria. The business on Hayling Island acts as sole distributor for Emco products in the UK and has enjoyed a long and fruitful relationship with the parent company. But as managing director of Emco Education in the UK Jim Wilson reveals, he has the freedom to explore other products from other companies.
"Our relationship with Emco is the cornerstone of our business, but as a totally independent organisation we can, and do, sell and support innovative products from other suppliers. A case in point being CNC routers from Germany company Isel, and 5-axis machining centres and waterjet machines from imes-icore, also based in Germany.
"We've been dealing with imes-icore for around two years and have been successful selling their range of iCUTwater Platinum and iCUTwater Basic waterjet cutting machines," he adds. "The nice thing about these machines is that they're compact and fully enclosed, which makes them ideal for universities where space is often at a premium.
"But when I found out that imes-icore had developed an ultra-compact waterjet machine – the iCUTwater Smart – I was very interested. Despite the really challenging operating conditions that are affecting everyone at the moment, I decided to buy one to use as a demonstration model in our showroom. I can see real potential for this machine – not only in education but also for light industrial applications. I think we got the first model off the production line and took delivery in September."
Big things from a small package
Compact is definitely the word that springs to mind when seeing the iCUTwater Smart for the first time. It's a totally self-contained unit that dimensionally measures just 1,550 x 920 x 1,450mm (WxDxH) and weighs 800kg including water. It'll fit comfortably through a conventional double door and could easily be transported around using a pallet truck.
Despite its modest size, the machine sports a working area of 1,000 x 500mm and users have a choice of pump sizes: 7kW or 22kW. The smaller variant (as per the model in Emco's showroom) has the pump fully integrated into the machine design so it adds nothing to the overall size. The pump on the more powerful 22kW version is separate.
But make no mistake, this might be a lightweight machine in terms of its footprint, but it's no slouch operationally. It'll make light work of stainless, titanium and composite materials up to 10mm thickness; brass up to 12mm; copper and plastics up to 15mm; and aluminium up to 20mm thick. The iCUTwater Smart isn't just limited to cutting metals either – in fact there's really not much it can't handle: wood, glass, rubber, marble, foam – it's all fair game.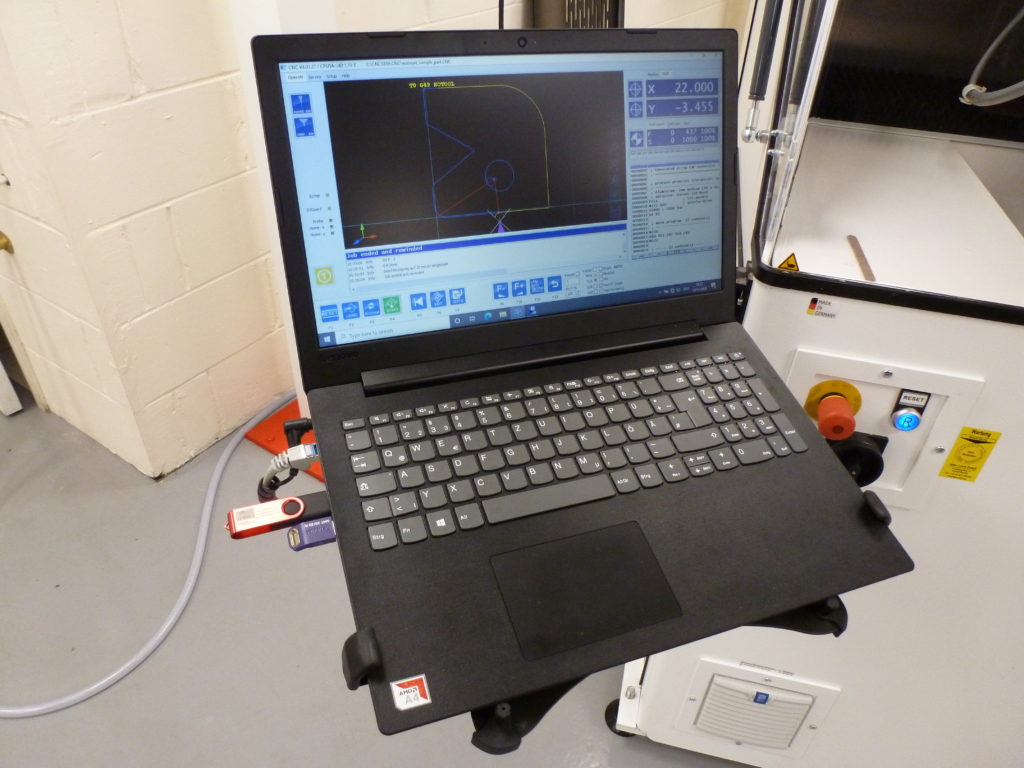 And it'll do all this to a positional accuracy of ±0.08mm/m at a constant 20°C ambient temperature with a repeatability of <0.04mm/m. Operating the iCUTwater Smart is a breeze. A Windows 10 laptop is supplied with easy to use cutting software pre-installed. DXF and BMP conversions are possible – as is the capability to build a database of part programs for specific components. The price of the 7kW model is smidgen under £60,000.
Wide appeal
Emco's sales director, Chris Heal, believes the appeal for the new waterjet machine will be far reaching: "We've had a number of enquiries already, not just from universities but also from manufacturing companies," he explains.
"We don't really see the iCUTwater Smart as an out and out production machine per se; but it'll really come into its own for R&D and prototyping producing one-offs and small quantities. It'll fit quite comfortably into an office, lab, or other R&D area – all you need is three-phase power, a mains water supply, a supply of garnet – which is used as an abrasive agent in the waterjet cutting process – and you're good to go. Running costs are extremely low."
One customer already familiar with imes-icore waterjet equipment is Warwick University which purchased a larger imes-icore iCUT Eco NT 7.5kW machine. The new iCUTwater Smart will ultimately replace this particular model.
"Warwick University is a very forward-thinking establishment with some pretty innovative teaching methods," Mr Heal affirms.
"They've set-up a facility called the Engineering Build Space where students are granted access levels (1, 2 or 3) depending on the training they've received. There's a progression path in place: the students start on level 1 and receive training on all the machines on that level.
"On successful completion of level 1, they gain access, via a vending system using their student cards, to level 2 which contains more advanced machines and technology. Finally, once they've successfully received training on all machines on level 2, they progress to the most advanced machines on level 3 – which is where the iCUT waterjet machine sits.
"It's a really informal but effective, modern learning environment: you can't move up until you've successfully passed the training on the previous level."
Another happy customer is Portsmouth University which purchased the same model as Warwick but with a larger 22kW external pump. The university is using the machine to cut stainless steel and composites.
Composite materials such as Carbon Fibre Reinforced Plastic (CFRP), fibreglass and composite foams are notoriously difficult to cut as they tend to shear, fracture and are prone to delamination. Waterjet cutting is particularly effective as a tried and trusted method of cutting these materials.
Horses for courses
As with most manufacturing methods, it's horses for courses and I'm not advocating one approach over another, but there are some clear advantages offered by waterjet cutting over alternative methods such as laser cutting.
You can cut just about any material at any thickness with waterjet; and because there's no heat involved, there's no heat affected zone (HAZ) and therefore no mechanical stresses. Surface finishes are excellent and it's better for the environment.
"Waterjet machines may be relatively commonplace – but there are few – if any – available in such a compact form factor as the iCUTwater Smart," Jim Wilson concludes.
Emco
www.emco.co.uk